Jak dosáhnout konsensu na zeleném zotavení
DAUHÁ – Globálním titulkům dnes sice vévodí ruská invaze na Ukrajinu, ale onemocnění covid-19 dál páchá po celém světě socioekonomickou spoušť. Pandemie si vyžádala více než šest milionů životů, dohnala 124 milionů lidí do extrémní chudoby a zbrzdila pokrok při plnění cílů trvale udržitelného rozvoje 2030. Naštěstí už přibližně pět miliard lidí obdrželo alespoň jednu dávku vakcíny proti covid-19 a Světová zdravotnická organizace ve spolupráci s aliancí Gavi si stanovily cíl naočkovat do letošního července ve všech zemích světa 70% lidí.
Nehledě na děsivou válku na Ukrajině budou pandemie a její oběti společně s klimatickými změnami nadále figurovat na prvním místě seznamu naléhavých globálních úkolů. Dopady krize v důsledku klimatických změn cítíme už nyní dnes a denně, jak ukazuje šestá hodnotící zpráva Mezivládního panelu pro změnu klimatu. Právě nedávno pustošily extrémní teploty a sucha západní Asii a severní Afriku. Stoupající hladiny moří ohrožují řadu ostrovních států a nízko položených zemí. Katastrofální povodně zaplavily části Evropy a Číny. A přes americký Západ a rozsáhlá území Austrálie se přehnaly lesní požáry.
Vědci dnes varují, že budeme-li se chovat, "jako by se nechumelilo", průměrná globální teplota se do konce století pravděpodobně zvýší o katastrofálních 3-4°Celsia oproti předindustriální úrovni. Abychom udrželi globální oteplování na mnohem bezpečnější úrovni pod 1,5°C, budou se emise oxidu uhličitého muset do roku 2030 snížit o 45% (oproti úrovni z roku 2010) a do roku 2050 pak na čistou nulu.
Když nyní víme, že mutace omikron je méně smrtelná než předchozí varianty covid-19, měli bychom toho využít a navázat na dynamiku získanou loni v listopadu na klimatickém summitu COP26 v Glasgowě. Svět musí koncipovat plán zotavení, který výrazně přesáhne pandemickou reakci tím, že začne řešit také klimatické změny. Zotavení nesmí být jen široce rozkročené, ale i zelené.
Co to v praxi znamená? Před 20. kolem Fóra z Dauhá, které proběhne 26. až 27. března, spojily naše organizace síly a zkoumají 20 cílených iniciativ, aby dospěly ke spravedlivému, zdravému a trvale udržitelnému globálnímu zotavení. Tyto iniciativy jsou popsané v nedávno zveřejněné zprávě Za společnou a zelenější obnovu.
Aby bylo zotavení zelené a trvale udržitelné, navrhujeme vznik Globální zelené vodíkové aliance, která bude podporovat efektivnější a klimaticky citlivější metody výroby vodíku. Mezi další kroky by patřilo vytvoření globálního seznamu zelených vodíkových programů, ochrana duševního vlastnictví a licenčních práv při rozšiřování globálního přístupu a podpora celoaliančních standardů bezpečného skladování a přepravy.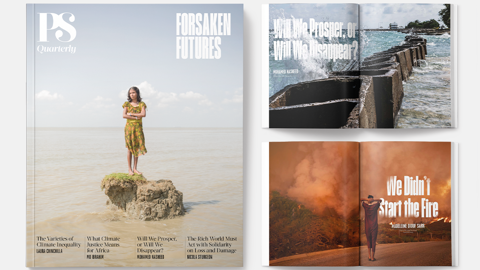 PS Quarterly: Forsaken Futures is here, and available exclusively to Premium subscribers.
Subscribe now to read all the magazine's content, including exclusive insights from Laura Chinchilla, Mohamed Nasheed, Nicola Sturgeon, Laurence Tubiana, and more.
Spravedlivé a inkluzivní zotavení vyžaduje vyšší investice do lidského kapitálu – zejména do zvýšení kvalifikace zaměstnanců – a také důraz na podporu nejohroženějších lidí. Plánovací procesy by měly upřednostňovat veřejné a soukromé financování nízkouhlíkových aktivit a infrastruktury, které mají největší potenciál vytvořit pracovní místa pro mladé lidi a další zranitelné skupiny, u nichž lze předpokládat problémy se zaměstnaností.
Abychom zajistili, že zotavení bude podporovat zdraví a pohodu lidí, potřebujeme Globální fond sociální ochrany, který pomůže vládám rozvojových zemí se zajišťováním adekvátních sociálních programů. Takový fond by dal nový impulz koordinačnímu úsilí a mobilizoval by domácí i vnější zdroje, jež by představovaly polštář proti hospodářským šokům včetně těch, které způsobí ekologické katastrofy vyvolané změnami klimatu.
A konečně platí, že chceme-li při podpoře zotavení využít potenciálu digitalizace, musíme prosazovat rozsáhlé investice do infrastruktury informačních a komunikačních technologií, abychom dosáhli digitální rovnosti a současně zužitkovali hospodářský, zdravotnický a ekologický potenciál nových technologií. Mezinárodní organizace a vlády by měly spolupracovat s firmami na poskytnutí efektivní a spolehlivé digitální konektivity, a to i prostřednictvím cílených investic do setrvalé digitalizace většiny (pokud ne všech) veřejných služeb.
V příštích sedmi měsících se uskuteční několik významných mezinárodních setkání, z nichž každé bude představovat příležitost podniknout kroky ke společnému zotavení. Získání vlád, firem i občanské společnosti pro soudržnou, reprezentativní a trvale udržitelnou strategii globální implementace si však vyžádá vrcholnou schůzku.
Proto vyzýváme, aby Organizace spojených národů a skupina G20 zorganizovaly "summit zeleného pandemického zotavení". Tato dvoudenní akce, která by se časově shodovala s každoročním zářijovým Valným shromážděním OSN, by pomohla zajistit, že se političtí lídři na nejvyšších úrovních zavážou k prosazování trvale udržitelného a spravedlivého socioekonomického rozvoje v postcovidové éře.
Biliony dolarů, které bohaté země utratily během pandemie, ukazují, že jsou k dispozici finanční nástroje k řešení vážných výzev. Zapotřebí jsou politická vůle, kreativní tržní pobídky a praktický plán s jasně vytyčenými cíli, lhůtami a programovými idejemi.
Pomoci mohou prostředky čerpané ze souvisejících iniciativ. Agenda pro trvale udržitelný rozvoj 2030, partnerství Build Back Better World a "zelené úděly" na národních úrovních se obvykle ve svých klíčových cílech shodují. Zpráva Naše společná agenda generálního tajemníka OSN Antónia Guterrese nabízí další aktuální a ambiciózní nápady, jak zajistit globální veřejné statky a řešit hlavní rizika.
Lidé i státy se pochopitelně stále soustředí na pandemii, na obavu, že lidstvo se v oblasti klimatických změn blíží zlomovému bodu, na válku na Ukrajině i na další globální hrozby. Naštěstí už máme multilaterální instituce, které potřebujeme pro dosažení globálního politického konsensu v otázce řešení těchto vzájemně se překrývajících krizí. Nyní musíme těchto nástrojů efektivně využít.
Z angličtiny přeložil Jiří Kobělka