Budowanie Konsensusu w Sprawie Ekologicznego Ożywienia Gospodarczego
DOHA – Podczas gdy inwazja Rosji na Ukrainę trafia na pierwsze strony gazet, wirus COVID-19 nadal sieje spustoszenie społeczno-gospodarcze na całym świecie. Pandemia odebrała życie ponad sześciu milionom osób, zepchnęła 124 miliony ludzi w skrajne ubóstwo i utrudniła postępy w realizacji Celów Zrównoważonego Rozwoju na rok 2030. Na szczęście około pięciu miliardów ludzi otrzymało już co najmniej jedną dawkę szczepionki przeciwko wirusowi COVID-19, a Światowa Organizacja Zdrowia i Gavi postawiły sobie za cel zaszczepienie 70% ludzi we wszystkich krajach do lipca tego roku.
Niezależnie od straszliwej wojny na Ukrainie, pandemia i jej długotrwałe żniwo - obok zmian klimatycznych - nadal będą znajdować się na szczycie listy ważnych problemów globalnych. Jak wynika z szóstego raportu oceniającego Międzyrządowego Zespołu do Spraw Zmian Klimatu, skutki tego ostatniego kryzysu są już odczuwalne na co dzień. Niedawno ekstremalne temperatury i susze spustoszyły Azję Zachodnią i Afrykę Północną. Podnoszący się poziom mórz zagraża wielu państwom wyspiarskim i krajom nisko położonym. Katastrofalne powodzie zalały część Europy i Chin. A dzikie pożary ogarnęły amerykański Zachód i duże połacie Australii.
Naukowcy ostrzegają obecnie, że "niepodejmowanie działań" prawdopodobnie spowoduje wzrost średniej temperatury na świecie w stosunku do poziomu sprzed epoki przemysłowej o katastrofalne 3-4°C do końca stulecia. Aby utrzymać globalne ocieplenie na znacznie bezpieczniejszym poziomie, poniżej 1,5ºC, emisja dwutlenku węgla będzie musiała spaść o 45% (w stosunku do poziomu z roku 2010) do roku 2030, a następnie do zera netto do roku 2050.
Teraz, gdy wiemy już, że Omicron jest mniej śmiercionośny niż wcześniejsze warianty COVID-19, powinniśmy wykorzystać ten moment, aby wykorzystać impet, jaki powstał w listopadzie ubiegłego roku na szczycie klimatycznym COP26 w Glasgow. Świat musi opracować plan naprawczy wykraczający poza reakcję na pandemię, rozpoczynając również walkę ze zmianami klimatu. Naprawa musi być nie tylko szeroko zakrojona, ale także ekologiczna.
Co to oznacza w praktyce? Przed 20-tą edycją Doha Forum, które odbędzie się w dniach 26-27 marca, nasze organizacje połączyły siły, by wspólnie przeanalizować 20 inicjatyw mających na celu doprowadzenie do sprawiedliwej, zdrowej i zrównoważonej odnowy gospodarczej na świecie. Zostały one przedstawione w niedawno opublikowanym raporcie Building Back Together & Greener.
W celu zapewnienia ekologicznej i zrównoważonej regeneracji proponujemy utworzenie Globalnego Sojuszu na Rzecz Ekologicznego Wodoru, którego zadaniem będzie ułatwienie stosowania bardziej wydajnych, przyjaznych dla klimatu metod produkcji wodoru. Po jego utworzeniu, kolejne kroki obejmowałyby stworzenie globalnego wykazu programów dotyczących ekologicznego wodoru, ochronę praw własności intelektualnej i praw licencyjnych przy jednoczesnym zwiększeniu globalnego dostępu, a także zachęcanie do ustanawiania ogólnoświatowych standardów bezpiecznego przechowywania i transportu.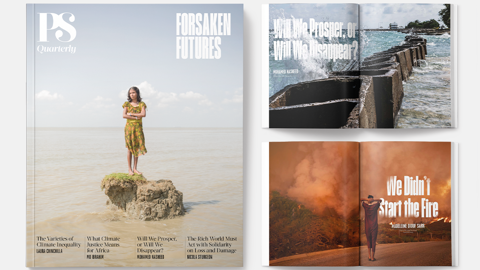 PS Quarterly: Forsaken Futures is here, and available exclusively to Premium subscribers.
Subscribe now to read all the magazine's content, including exclusive insights from Laura Chinchilla, Mohamed Nasheed, Nicola Sturgeon, Laurence Tubiana, and more.
Sprawiedliwe i sprzyjające włączeniu społecznemu ożywienie gospodarcze wymaga większych inwestycji w kapitał ludzki - zwłaszcza w celu podniesienia kwalifikacji pracowników - oraz położenia nacisku na wspieranie osób najbardziej zagrożonych. W procesach planowania należy uprzywilejować publiczne i prywatne finansowanie działań i infrastruktury niskoemisyjnej, które mają największy potencjał tworzenia miejsc pracy dla młodych ludzi i innych grup w trudnej sytuacji, stojących w obliczu wyzwań związanych z zatrudnieniem.
Aby zapewnić, że odbudowa wspiera zdrowie i dobrobyt, potrzebujemy Globalnego Funduszu Ochrony Socjalnej, który pomoże rządom krajów rozwijających się w tworzeniu odpowiednich programów socjalnych. Fundusz taki zwiększyłby koordynację działań i zmobilizowałby zasoby krajowe i zewnętrzne w celu zapewnienia zabezpieczenia przed wstrząsami gospodarczymi, w tym wywołanymi przez katastrofy środowiskowe związane z klimatem.
Wreszcie, aby wykorzystać potencjał digitalizacji w przyspieszeniu procesu wychodzenia z kryzysu, musimy promować zakrojone na szeroką skalę inwestycje w infrastrukturę informatyczną i komunikacyjną, zarówno w celu osiągnięcia równości cyfrowej, jak i wykorzystania potencjału nowych technologii w zakresie gospodarki, zdrowia oraz ochrony środowiska. Organizacje międzynarodowe i rządy powinny współpracować z przedsiębiorstwami w celu zapewnienia skutecznej i niezawodnej łączności cyfrowej, w tym poprzez ukierunkowane inwestycje w stałą digitalizację większości (jeśli nie wszystkich) usług publicznych.
W ciągu najbliższych siedmiu miesięcy odbędzie się kilka ważnych spotkań międzynarodowych, a każde z nich będzie okazją do podjęcia kroków w kierunku wspólnej odbudowy. Jednak zgromadzenie rządów, przedsiębiorstw i społeczeństwa obywatelskiego wokół spójnej, reprezentatywnej i trwałej globalnej strategii wdrażania będzie wymagało spotkania kulminacyjnego.
Dlatego też wzywamy do zorganizowania "Zielonego Szczytu Regeneracji po Pandemii," którego organizatorami będą Organizacja Narodów Zjednoczonych i grupa G20. Dwudniowe wydarzenie, zaplanowane tak, aby zbiegło się w czasie z dorocznym Zgromadzeniem Ogólnym ONZ we wrześniu, pomogłoby zapewnić, że przywódcy polityczni na najwyższych szczeblach zaangażują się w dążenie do zrównoważonego i sprawiedliwego rozwoju społeczno-gospodarczego w erze po COVID.
Biliony dolarów wydane przez bogate kraje w czasie pandemii pokazują, że istnieją narzędzia finansowe, które pozwalają stawić czoła poważnym wyzwaniom. Potrzebna jest wola polityczna, kreatywne zachęty rynkowe oraz praktyczny plan zawierający jasne cele, harmonogramy i pomysły programowe.
Pomocne mogą być zasoby pochodzące z powiązanych inicjatyw. Agenda 2030 na rzecz zrównoważonego rozwoju, partnerstwo "Build Back Better World" oraz "zielone umowy" na poziomie krajowym są zasadniczo zbieżne w swoich kluczowych celach. Raport Sekretarza Generalnego ONZ António Guterresa Nasza Wspólna Agenda zawiera dodatkowe, aktualne i ambitne pomysły na dostarczanie globalnych dóbr publicznych i przeciwdziałanie najważniejszym zagrożeniom.
Zrozumiałe jest, że ludzie i państwa nadal koncentrują się na pandemii, obawach, że ludzkość zbliża się do punktu, z którego nie ma już powrotu jeśli chodzi o zmiany klimatyczne, wojnie na Ukrainie i innych globalnych zagrożeniach. Na szczęście dysponujemy już instytucjami wielostronnymi, które są nam potrzebne do wypracowania globalnego konsensusu politycznego w celu rozwiązania tych nakładających się na siebie kryzysów. Teraz musimy odpowiednio wykorzystać te narzędzia.
Z angielskiego przetłumaczyła Marz McNamer