Établir un consensus pour la relance verte
DOHA – Alors que l'invasion russe de l'Ukraine fait les gros titres, la COVID-19 continue de causer es ravages socio-économiques dans le monde entier. La pandémie a tué plus de six millions de gens, en a poussé 124 millions dans l'extrême pauvreté et a empêché des avancées dans la réalisation des Objectifs de développement durable à l'horizon 2030. Heureusement, près de cinq milliards de personnes ont reçu à ce jour au moins une dose de vaccin contre la COVID-19 et l'Organisation Mondiale de la Santé et Gavi ont établi l'objectif de vacciner 70 % de la population de tous les pays d'ici le mois de juillet de cette année.
Malgré la guerre horrible en Ukraine, la pandémie et ses lourdes conséquences vont continuer à se classer en tête des problèmes mondiaux, aux côtés du changement climatique. Les effets de cette dernière crise se font déjà sentir au quotidien, comme le montre le Sixième rapport d'évaluation du GIEC. Jusqu'à récemment, les températures et les sécheresses extrêmes ont ravagé l'Ouest de l'Asie et le Nord de l'Afrique. La hausse du niveau des mers menace de nombreux États insulaires et pays côtiers de basse altitude. Des inondations catastrophiques ont frappé des régions de l'Europe de la Chine. En outre, des incendies ont ravagé de part en part l'Ouest américain et de larges pans de l'Australie.
Les scientifiques nous mettent en garde à présent sur le fait qu'un « retour à notre ancienne manière de faire » va très certainement faire augmenter la température mondiale moyenne, par rapport aux niveau pré-industriels, à 3 à 4º Celsius d'ici la fin du siècle. Pour maintenir le réchauffement de la planète à un niveau bien plus sûr, en deçà de 1,5ºC, il faudra réduire les émissions de CO2 de 45 % (par rapport aux niveaux de 2010) d'ici 2030 puis à zéro émission nette d'ici 2050.
À présent que nous savons que le variant Omicron est bien moins létal que les précédents, nous pourrions mettre notre temps à profit et continuer sur la lancée initiée en novembre dernier lors de la COP26 sur le Changement climatique de Glasgow. Le monde a besoin de rédiger une première version d'un plan de relance allant bien au-delà d'une réponse à la pandémie, en commençant également à prendre le problème du changement climatique à bras le corps. La relance ne doit pas seulement être générale, mais également verte.
En termes pratiques, qu'est-ce que cela veut dire ? Avant l'édition du 20e Forum de Doha, les 26 et 27 mars, nos organisations se sont associées pour explorer 20 initiatives ciblées visant à favoriser une reprise mondiale juste, saine et durable. Elles sont décrites dans un rapport récemment publié, Building Back Together & Greener.
Pour que la relance soit verte et durable, nous proposons une Alliance mondiale pour l'hydrogène vert afin de faciliter des méthodes de production d'hydrogène plus efficaces et plus respectueuses du climat. Une fois établies, les prochaines étapes pourraient inclure la mise en place d'un inventaire mondial des programmes d'hydrogène vert, la protection de la propriété intellectuelle et des droits de licence tout en élargissant l'accès mondial et la promotion d'un cadre standard à l'échelle de l'alliance pour un stockage et un transport sûr.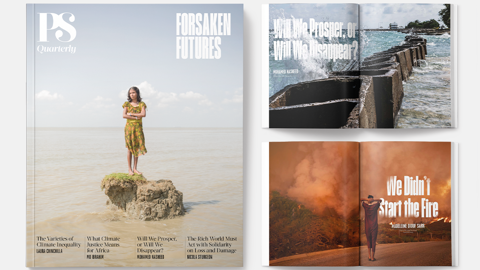 PS Quarterly: Forsaken Futures is here, and available exclusively to Premium subscribers.
Subscribe now to read all the magazine's content, including exclusive insights from Laura Chinchilla, Mohamed Nasheed, Nicola Sturgeon, Laurence Tubiana, and more.
Une reprise juste et inclusive nécessite davantage d'investissements dans le capital humain – en particulier pour améliorer les compétences des travailleurs – et un accent sur le soutien aux personnes les plus exposées au risque. Les processus de planification devraient privilégier le financement public et privé pour les activités et les infrastructures à faible émission de carbone qui ont le plus grand potentiel pour créer des emplois pour les jeunes et pour les autres groupes vulnérables confrontés à des problèmes d'emploi.
Pour garantir que la relance favorise la santé et le bien-être, nous avons besoin d'un Fonds mondial pour la protection sociale pour aider les gouvernements des pays en développement à fournir des programmes sociaux adéquats. Un fonds de ce type stimulerait les efforts de coordination et mobiliserait les ressources intérieures et extérieures nécessaires pour fournir un tampon contre les chocs économiques, notamment contre ceux provoqués par les catastrophes environnementales liées au climat.
Enfin, pour réaliser le potentiel de la numérisation dans l'avancement de la relance, nous devons promouvoir des investissements à grande échelle dans les infrastructures des technologies de l'information et des communications, à la fois pour parvenir à l'équité numérique et pour tirer parti du potentiel économique, sanitaire et environnemental des nouvelles technologies. Les organisations internationales et les gouvernements devraient œuvrer de concert avec les entreprises pour fournir une connectivité numérique efficace et fiable, notamment par le biais d'investissements ciblés dans la numérisation régulière de la plupart des services publics (voire tous).
Plusieurs réunions internationales importantes auront lieu au cours des sept prochains mois, chacune offrant une occasion de prendre des mesures en vue d'une relance commune. Mais pour mobiliser les gouvernements, les entreprises et la société civile en vue de soutenir une stratégie de mise en œuvre globale cohérente, représentative et soutenue, il faudra que cette réunion débouche sur du concret.
C'est pourquoi nous appelons à un « Sommet vert sur la relance après la pandémie », qui sera orchestré par les Nations Unies et le G20. Un événement de deux jours, programmé pour coïncider avec l'Assemblée générale annuelle de l'ONU en septembre, contribuerait à faire en sorte que les dirigeants politiques au plus haut niveau s'engagent à poursuivre un développement socio-économique durable et équitable dans l'ère post-COVID.
Les billions de dollars dépensés par les pays riches pendant la pandémie montrent qu'il existe des outils financiers pour relever des défis préoccupants. Il faut une volonté politique, des incitations créatives pour le marché et un plan d'action pratique, doté d'objectifs clairs, d'échéances et d'idées en matière de programmation.
Les ressources tirées d'initiatives connexes peuvent être d'un grand secours. Le Programme de développement durable à l'horizon 2030, le Partenariat mondial « Reconstruire mieux » et les « accords verts » au niveau national sont généralement alignés sur leurs objectifs clés. Le rapport Our Common Agenda du Secrétaire général de l'ONU António Guterres propose des idées nouvelles, ambitieuses et opportunes, pour la fourniture de biens publics mondiaux et pour la gestion des risques majeurs.
À l'heure actuelle, on comprend aisément que l'opinion publique et les pays soient naturellement concentrés sur la pandémie, sur la crainte que l'humanité n'approche du point de non-retour en ce qui concerne le changement climatique, la guerre en Ukraine et d'autres menaces mondiales. Heureusement, nous avons déjà les institutions multilatérales nécessaires pour forger un consensus politique mondial pour faire face à ces crises qui comptent des aspects communs. Dès à présent, nous devons tirer le meilleur parti de ces outils.