Wird die Tragödie der Ukraine eine Reform des UN-Sicherheitsrates in Gang setzen?
WASHINGTON, D.C. – Der russische Einmarsch in der Ukraine hat viele gravierende Schwächen der internationalen Ordnung aufgedeckt. Ein hervorspringender Fehler, den es zu korrigieren gilt, betrifft den UN-Sicherheitsrat und seine Rolle bei der Beaufsichtigung des multilateralen Systems. Insbesondere – und das unterstreicht einen Punkt, den wir in unserem Essay in einem aktuellen Bericht der Brookings Institution herausgestellt haben – hat der Krieg in der Ukraine einmal mehr gezeigt, dass die Vetomacht der fünf ständigen Mitglieder des Sicherheitsrates ein bedeutender Stolperstein für den Frieden ist.
Laut Kapitel I, Artikel 1 der nach den Verheerungen des Zweiten Weltkriegs abgefassten UN-Charta besteht der erste Zweck der Vereinten Nationen darin, den Weltfrieden und die internationale Sicherheit zu wahren. Zu diesem Zweck verfolgt die Organisation das Ziel, Bedrohungen des Friedens zu verhüten und zu beseitigen, Angriffshandlungen zu unterdrücken und internationale Streitigkeiten durch friedliche Mittel zu bereinigen oder beizulegen. Die Kapitel VI und VII der Charta betrauen den Sicherheitsrat mit dieser zentralen Mission.
Doch die durch Artikel 27 jedem der fünf ständigen Mitglieder des Sicherheitsrates (China, Frankreich, Russland, Großbritannien und den USA) zugestandene absolute Vetomacht war von Anfang an ein zentrales Hindernis bei der Erfüllung dieser Mission durch das Gremium. Das liegt daran, dass die fünf ständigen Mitglieder fast immer in rivalisierende geopolitische Blöcke aufgeteilt waren, wobei ein Mitglied eines Blocks – zumeist die Sowjetunion (und jetzt ihre Erbe, Russland) oder die USA – bei vielen wichtigen Entscheidungen sein Veto einlegte.
Russlands grausamer Blitzkrieg gegen die Ukraine ist eine deutliche Erinnerung an die Machtlosigkeit des Sicherheitsrates in Fragen, bei denen die Interessen eines oder mehrerer ständiger Mitglieder mit denen der anderen Mitglieder kollidieren. Nach dem Zweiten Weltkrieg hofften Optimisten, dass eine Sicherheitsbedrohung dazu führen würde, dass der Sicherheitsrat zunächst umfassende, verbindliche Wirtschaftssanktionen verhängen würde, um vor Aggression abzuschrecken und zu einer friedlichen Konfliktbeilegung zu ermutigen.
Doch im gegenwärtigen Ukraine-Konflikt hat das Veto Russlands im Sicherheitsrat zur Folge, dass die USA und ihre Verbündeten Sanktionen nur im Rahmen einer "Koalition der Willigen" verhängen können. Zwar verschaffen die große Zahl der Länder und die extraterritoriale Reichweite des dollarbasierten Zahlungssystems von den USA verhängten Sanktionen enormes Gewicht. Doch wäre ein vom Sicherheitsrat durchgesetztes System weltweiter Sanktionen, in diesem Fall wie in anderen, für die mit Sanktionen belegte Volkswirtschaft noch schwächender.
Darüber hinaus könnten die sich abzeichnende Rolle des digitalen Geldes und dadurch womöglich hervorgerufene Änderungen im internationalen Währungssystem die Rolle des Dollars schon bald schmälern und das, was eine US-geführte Koalition der Willigen erreichen kann, verringern. Und in anderen Fällen – wie etwa der Entscheidung des früheren US-Präsidenten Donald Trump im Jahr 2018, erneut harte Wirtschaftssanktionen gegen den Iran zu verhängen – hat die extraterritoriale Reichweite des Dollars selbst unter US-Verbündeten beträchtlichen Unmut hervorgerufen.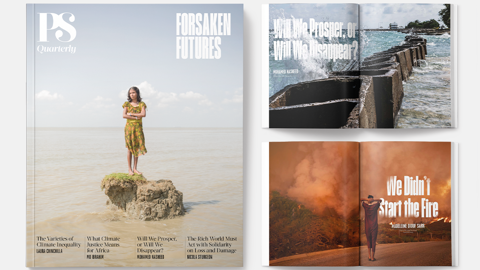 PS Quarterly: Forsaken Futures is here, and available exclusively to Premium subscribers.
Subscribe now to read all the magazine's content, including exclusive insights from Laura Chinchilla, Mohamed Nasheed, Nicola Sturgeon, Laurence Tubiana, and more.
Und schließlich lässt sich, auch wenn sich angesichts der offenkundigen russischen Aggression Russlands gegenüber der Ukraine derzeit ein großer Teil der Welt um die US-geführte Koalition der Demokratien schart, die Möglichkeit leider nicht ausschließen, dass eine künftige Trump- oder Trump-artige US-Regierung etwas tut, das ihr Veto im Sicherheitsrat potenziell zum Problem für weite Teile der demokratischen Welt machen könnte.
Dass ein zunehmend illegitimer und ineffektiver Sicherheitsrat den Kern des heutigen multilateralen Systems bildet, ist umso bedauerlicher angesichts der wachsenden Palette an Bedrohungen für Frieden und Sicherheit. Hierzu gehören nicht nur konventionelle Akte der Aggression wie die, die die Welt derzeit in der Ukraine erlebt – und die noch immer zu Atomschlägen eskalieren könnten –, sondern auch andere, von neuen Technologien ausgehende Sicherheitsbedrohungen.
So könnten staatliche oder nichtstaatliche Akteure durch verheerende Cyber-Angriffe oder den Missbrauch künstlicher Intelligenz Chaos anrichten. Synthetische Viren noch tödlicher als das COVID-19 hervorrufende Coronavirus könnten unsägliches Leid hervorrufen, sei es durch Bioterrorismus oder biotechnologische Fehler. Und der Klimawandel ist eine Bedrohung für die gesamte Menschheit, die auf dem Radarschirm eines reformierten Sicherheitsrates stehen muss. In all diesen Bereichen bedarf es dringend enger und für alle verbindlicher Regeln.
Wir sprechen uns daher dafür aus, die Art, wie der Sicherheitsrat operiert, radikal zu ändern, indem man die Möglichkeit einführt, das Veto eines ständigen Mitglieds zu kippen. Dies könnte geschehen, indem man Artikel 27 durch eine Klausel ergänzt, die es einer großen doppelten Mehrheit – die beispielsweise mindestens zwei Drittel der Mitgliedsstaaten und zwei Drittel der Weltbevölkerung umfasst – ermöglicht, ein Veto zu überstimmen.
Unser Vorschlag würde heute von Russland und wahrscheinlich auch von China mit einem Veto belegt werden – und vielleicht auch von den drei Demokratien unter den ständigen Mitgliedern, einschließlich der USA. Doch eine große Mehrheit der Länder würde ihn vermutlich unterstützen. Tatsächlich ist dies ein idealer Zeitpunkt für die Demokratien unserer Welt, einschließlich der USA, eine derartige Veränderung vorzuschlagen. Indem sie ihn unterstützt, könnte die Regierung von Präsident Joe Biden den Moment ergreifen und ihre Entschlossenheit demonstrieren, ein gerechteres und stärker inklusives multilaterales System zu erschaffen. Dies würde eine kraftvolle – und weithin begrüßte – Botschaft aussenden, dass die USA zuversichtlich sind, dass ihr aufgeklärtes nationales Eigeninteresse im Einklang mit den Interessen einer großen Mehrheit der Länder und Völker der Welt steht.
Anfänglich würde ein derartiger Vorschlag vermutlich keine ausreichende Unterstützung im US-Kongress erhalten. Doch jede Krise birgt auch eine Chance. Ein Plan wie oben skizziert könnte die Unterstützung für Reformen in den USA und anderen Demokratien bei all jenen auslösen, die sich Sorgen über alte und neue Bedrohungen der menschlichen Sicherheit machen.
Angesichts zunehmender Gefahren für den Frieden könnte der Sicherheitsrat eine viel größere Rolle bei der Abmilderung von Gefahren spielen. Wir wollen hoffen, dass die russische Aggression gegenüber der Ukraine einen radikalen Wandel anstößt, der die Legitimität und Effektivität des Gremiums steigert.
Aus dem Englischen von Jan Doolan