Стимулирует ли украинская трагедия реформу Совета Безопасности ООН?
ВАШИНГТОН, округ Колумбия – Вторжение России в Украину выявило множество слабых мест международного порядка. Один существенный недостаток, который необходимо устранить, касается Совета Безопасности Организации Объединенных Наций и его роли в надзоре за мультилатеральной системой. В частности, момент, который мы выделили в нашем эссе в недавнем докладе Брукингского института, война на Украине еще раз продемонстрировала, что право вето пяти постоянных членов Совета Безопасности является главным камнем преткновения на пути к миру.
Глава I, статья 1 Устава ООН, который был разработан после опустошительной Второй мировой войны, гласит, что основной целью ООН является поддержание международного мира и безопасности. С этой целью организация стремится предотвращать угрозы миру, пресекать акты агрессии и добиваться мирного урегулирования международных споров. Главы VI и VII Устава возлагают эту ключевую задачу на Совет Безопасности.
Но абсолютное право вето, предоставленное статьей 27 каждому из постоянных членов Совета (постоянной пятерке Р5, включающей Китай, Францию, Россию, Соединенное Королевство и Соединенные Штаты), с самого начала было главным препятствием на пути выполнения органом своей миссии. Это связано с тем, что P5 практически всегда были разделены на соперничающие геополитические блоки, причем член одного блока – в основном либо Советский Союз (а теперь его наследник Россия), либо США – применяли право вето по многим важным решениям.
Варварская атака России на Украину является суровым напоминанием о бессилии Совета Безопасности, когда интересы одного или нескольких членов "пятерки" вступают в конфликт с интересами других членов. После Второй мировой войны оптимисты надеялись, что угроза безопасности заставит Совет Безопасности первоначально ввести всесторонние обязательные экономические санкции для сдерживания агрессии и поощрения мирного разрешения конфликтов.
Но в нынешнем украинском конфликте, вето России в Совете Безопасности означает, что США и их союзники могут вводить санкции только через "коалицию согласных". Действительно, большое количество стран и экстерриториальный охват системы платежей, основанной на долларах, придают введенным США санкциям огромное влияние. Вместе с тем, в этом случае, как и в других, введенная Советом Безопасности система глобальных санкций, станет еще более изнурительной для экономики, находящейся под санкциями.
Более того, растущая роль цифровых денег и изменения в международной валютной системе, которые они могут вызвать, могут вскоре снизить роль доллара и сократить возможности, которых может достичь коалиция согласных, возглавляемая США. А в других случаях, таких как решение бывшего Президента США Дональда Трампа в 2018 году о возобновлении жестких экономических санкций против Ирана, экстерриториальное влияние доллара вызвало серьезное недовольство даже среди союзников США.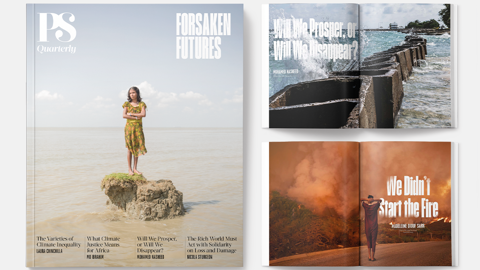 PS Quarterly: Forsaken Futures is here, and available exclusively to Premium subscribers.
Subscribe now to read all the magazine's content, including exclusive insights from Laura Chinchilla, Mohamed Nasheed, Nicola Sturgeon, Laurence Tubiana, and more.
Наконец, когда сегодня большая часть мира сплачивается вокруг возглавляемой США коалиции демократий перед лицом вопиющей российской агрессии против Украины, к сожалению, мы не можем исключить возможность того, что будущий Трамп или подобная Трампу администрация в США предпримет что-то, что потенциально может сделать вето Совета Безопасности проблемой для большей части демократического мира.
Тот факт, что в основе сегодняшней мультилатеральной системы лежит все более нелегитимный и неэффективный Совет Безопасности, вызывает тем большее сожаление, учитывая растущий диапазон угроз миру и безопасности. К их числу относятся не только конвенционные акты агрессии, подобные тем, что мир наблюдает в Украине – и которые еще могут перерасти в обмен ядерными ударами – но и другие угрозы безопасности, создаваемые новыми технологиями.
Например, государственные или негосударственные субъекты могут вызвать хаос посредством разрушительных кибератак или злоупотребления искусственным интеллектом. Синтетические вирусы, даже более смертоносные, чем коронавирус, вызвавший COVID-19, могут причинить неописуемый вред, будь то посредством биотеррора или биоошибки. А изменение климата является угрозой всему человечеству, и оно должно быть объектом внимания реформированного Совета Безопасности. Во всех этих областях срочно необходимы жесткие и обязательные для всех правила.
Поэтому мы выступаем за радикальное изменение методов работы Совета Безопасности путем введения возможности отмены права вето постоянных членов. Это можно было бы сделать, добавив в статью 27 положение, которое позволило бы подавляющему двойному большинству, представляющему, например, по меньшей мере две трети стран-членов и две трети населения мира – отменить право вето.
Сегодня наше предложение было бы отклонено Россией и, возможно, Китаем, а также, может быть, и тремя демократиями из P5, включая США. Но подавляющее большинство стран, вероятно, поддержало бы его. На самом деле, это идеальное время для мировых демократий, включая США, чтобы предложить такое изменение. Поддержав его, администрация президента Джо Байдена могла бы воспользоваться моментом и продемонстрировать свою решимость создать более справедливую и инклюзивную мультилатеральную систему. Это пошлет мощный – и широко приветствуемый – сигнал о том, что США уверены в том, что их просвещенные национальные интересы будут соответствовать интересам подавляющего большинства стран и народов мира.
Во-первых, такое предложение вряд ли получит достаточную поддержку в Конгрессе США. Но в каждом кризисе существует возможность. Описанный выше план, мог бы стимулировать поддержку реформ в США и других демократических странах среди всех тех, кто обеспокоен старыми и новыми угрозами для человеческой безопасности.
В условиях, когда мир подвергается все большей опасности, Совет Безопасности мог бы играть гораздо более важную роль в смягчении угроз. Будем надеяться, что агрессия России против Украины вызовет радикальные изменения, которые сделают этот орган более легитимным и эффективным.