¿La tragedia de Ucrania impulsará una reforma del Consejo de Seguridad de la ONU?
WASHINGTON, DC – La invasión de Ucrania por parte de Rusia ha dejado al descubierto muchas debilidades graves del orden internacional. Un defecto prominente que debe resolverse tiene que ver con el Consejo de Seguridad de las Naciones Unidas y su rol en la supervisión del sistema multilateral. Específicamente, y subrayando un punto que destacamos en nuestro ensayo en un informe reciente de la Brookings Institution, la guerra en Ucrania una vez más ha demostrado que el poder de veto de los cinco miembros permanentes del Consejo de Seguridad es un obstáculo importante para la paz.
El Capítulo I, Artículo 1 de la Carta de las Naciones Unidas, que fue redactada luego de la devastación de la Segunda Guerra Mundial, establece que el principal propósito de las Naciones Unidas es mantener la paz y la seguridad internacional. Con ese fin, la organización apunta a prevenir las amenazas a la paz, suprimir actos de agresión y propiciar un acuerdo pacífico de las disputas internacionales. Los Capítulos VI y VII de la Carta le encomiendan esta misión central al Consejo de Seguridad.
Pero el poder de veto absoluto otorgado por el Artículo 27 a cada uno de los miembros permanentes del Consejo (el P5, que incluye a China, Francia, Rusia, el Reino Unido y Estados Unidos) desde el principio ha sido un obstáculo clave para el cumplimiento de su misión por parte del organismo. Esto es porque el P5 casi siempre ha estado dividido en bloques geopolíticos rivales, donde un miembro de un bloque –generalmente la Unión Soviética (y ahora su heredero, Rusia) o Estados Unidos- ejerce su veto en muchas decisiones cruciales.
El ataque salvaje de Rusia a Ucrania es un duro recordatorio de la impotencia del Consejo de Seguridad cuando los intereses de uno o más miembros del P5 entran en conflicto con los de los otros miembros. Después de la Segunda Guerra Mundial, los optimistas esperaban que una amenaza a la seguridad condujera al Consejo de Seguridad inicialmente a imponer sanciones económicas integrales y vinculantes para disuadir la agresión y fomentar una resolución pacífica del conflicto.
Pero en el actual conflicto de Ucrania, el veto de Rusia en el Consejo de Seguridad implica que Estados Unidos y sus aliados pueden imponer sanciones sólo a través de una "coalición de la voluntad". Es verdad, la gran cantidad de países y el alcance extraterritorial del sistema de pagos basado en dólares les otorgan a las sanciones impuestas por Estados Unidos una enorme influencia. Sin embargo, en este caso como en otros, un sistema de sanciones globales impuesto por el Consejo de Seguridad sería aún más debilitante para la economía sancionada.
Asimismo, el rol emergente del dinero digital y los cambios en el sistema monetario internacional que podría generar podrían disminuir en poco tiempo el papel del dólar y reducir lo que una coalición de la voluntad liderada por Estados Unidos podría alcanzar. Y, en otros casos, como la decisión de 2018 del presidente norteamericano Donald Trump de volver a imponer sanciones económicas duras contra Irán, el alcance extraterritorial del dólar ha generado un resentimiento considerable inclusive entre los aliados de Estados Unidos.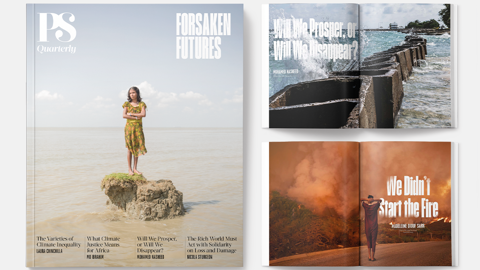 PS Quarterly: Forsaken Futures is here, and available exclusively to Premium subscribers.
Subscribe now to read all the magazine's content, including exclusive insights from Laura Chinchilla, Mohamed Nasheed, Nicola Sturgeon, Laurence Tubiana, and more.
Finalmente, mientras gran parte del mundo hoy se está movilizando en torno de la coalición de democracias liderada por Estados Unidos frente a la flagrante agresión rusa contra Ucrania, desafortunadamente no podemos descartar la posibilidad de que una futura administración Trump o al estilo Trump en Estados Unidos haga algo que pudiera potencialmente hacer que su veto en el Consejo de Seguridad sea un problema para gran parte del mundo democrático.
El hecho de que un Consejo de Seguridad cada vez más ilegítimo y menos eficiente mienta en el corazón del sistema multilateral de hoy es aún más desafortunado frente al creciente rango de amenazas a la paz y la seguridad. Estas incluyen no sólo actos de agresión convencionales del tipo que hoy atestigua el mundo en Ucrania –y que podrían escalar inclusive a intercambios nucleares- sino también otras amenazas a la seguridad planteadas por las nuevas tecnologías.
Por ejemplo, actores estatales y no estatales podrían causar estragos a través de ciberataques devastadores o del abuso de la inteligencia artificial. Virus sintéticos aún más mortales que el coronavirus que causó el COVID-19 podrían infligir un daño indescriptible, ya sea mediante bioterror o bio-error. Y el cambio climático es una amenaza para toda la humanidad que debe estar en el radar de un Consejo de Seguridad reformado. Hacen falta regulaciones severas y universalmente vinculantes en todos estos terrenos.
Por lo tanto, abogamos por un cambio radical de la manera en que funciona el Consejo de Seguridad, introduciendo la posibilidad de revocar el veto de un estado permanente. Esto podría hacerse incorporando una cláusula al Artículo 27 que permitiera que una doble mayoría amplia –que represente, por ejemplo, al menos las dos terceras partes de los países miembro y las dos terceras partes de la población mundial- invalidara un veto.
Nuestra propuesta sería vetada hoy por Rusia y probablemente por China –y quizá también por las tres democracias en el P5, incluida Estados Unidos-. Pero una amplia mayoría de países probablemente la respaldaría. De hecho, éste es un momento ideal para que las democracias del mundo, inclusive Estados Unidos, propongan un cambio de este tipo. Al respaldarlo, la administración del presidente Joe Biden podría aprovechar la oportunidad y demostrar su determinación para crear un sistema multilateral más equitativo e inclusivo. Esto enviaría un mensaje poderoso –y ampliamente acogido- de que Estados Unidos confía en que su propio interés nacional esclarecido estaría en concordancia con los intereses de una amplia mayoría de los países y la gente del mundo.
En un principio, es poco probable que una propuesta de esta naturaleza obtenga un respaldo suficiente en el Congreso de Estados Unidos. Pero cada crisis contiene una oportunidad. Un plan diseñado como se menciona más arriba podría incitar el respaldo de una reforma en Estados Unidos y otras democracias entre todos los que están preocupados por las viejas y nuevas amenazas a la seguridad humana.
La paz está cada vez más en riesgo y el Consejo de Seguridad podría desempeñar un papel mucho más relevante a la hora de mitigar los peligros. Esperemos que la agresión de Rusia contra Ucrania dé lugar a un cambio radical que haga que el organismo sea más legítimo y efectivo.