Dit is het juiste moment voor klimaat-actie
PARIJS – Tijdens het grootste deel van de grofweg drie decennia sinds klimaatverandering een wereldwijde zorg werd, zijn regeringen er optimistisch vanuit gegaan dat een overgang naar een groene economie zich geleidelijk zou voltrekken, omdat de stijgende brandstofprijzen de consumenten vanzelf op alternatieven met weinig fossiele brandstoffen zouden brengen. Het idee bestond dat de obstakels zich aan de productiekant bevonden, omdat de hoge rendementen op investeringen in olievelden een steeds ambitieuzer exploratie teweeg zouden brengen.
Vandaag de dag is het precies andersom. Nu de olieprijzen rond $40 per vat blijven hangen, hoeven overheden niet meer tegen de leveranciers van fossiele brandstoffen te zeggen dat ze moeten ophouden met investeren. De uitdaging is verschoven naar de consumentenkant. Wat kan er, nu de brandstofprijzen zo laag zijn, worden gedaan om de consumptiepatronen te veranderen?
Eerlijk gezegd zijn er een paar tekenen die erop wijzen dat goedkopere energie genoeg groei moet kunnen genereren om de olieprijzen weer omhoog te krijgen. Maar niemand voorspelt een opleving die krachtig genoeg is om de radicale transformatie tot stand te brengen die nodig zal zijn als landen aan hun emissiereductie-doelstellingen willen voldoen.
Uit een OESO-rapport van 2015 blijkt hoe ver landen achterliggen op hun emissiedoelstellingen – ondanks toezeggingen om de stijging van de gemiddelde temperatuur op aarde onder de 2° Celsius te houden. Intussen herinneren de grote oliebedrijven ons er graag aan dat we nog vele jaren fossiele brandstoffen zullen moeten blijven verbranden, als we geleidelijk de overstap maken naar een nieuwe energie-economie.
Wat moeten regeringen dus doen? Er is bijna universele overeenstemming dat niemand zal profiteren van een gevaarlijk warmere planeet. Maar verschillende landen hebben zeer uiteenlopende belangen, afhankelijk van de vraag of zij olie-exporteurs of -importeurs zijn en hoe ontwikkeld hun economieën zijn.
De olieproducerende ontwikkelingslanden moeten zich afvragen of er voor hun hulpbronnen nog wel een economische toekomst is, gezien de afnemende ruimte voor emissies. Landen als Saoedi-Arabië, Irak en Iran – waar de olie in overvloed aanwezig is, en goedkoop te winnen – zullen waarschijnlijk nog wel even in bedrijf blijven. Ook al doet de wereld snel afstand van fossiele brandstoffen, de olieconsumptie zal voorlopig nog wel hoog genoeg zijn om het de moeite waard te maken hun hulpbronnen te blijven ontginnen.
Subscribe to PS Digital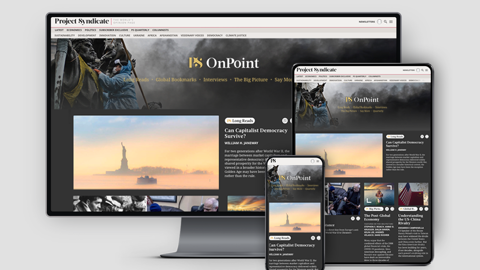 Subscribe to PS Digital
Access every new PS commentary, our entire On Point suite of subscriber-exclusive content – including Longer Reads, Insider Interviews, Big Picture/Big Question, and Say More – and the full PS archive.
Maar landen met minder royale olievoorraden moeten economische hervormingen doorvoeren en de subsidies elimineren. Saoedi-Arabië heeft aangegeven niet langer bereid te zijn marktaandeel op te offeren om duurdere producenten te steunen. Het besluit van het land om de productie op het huidige niveau te houden – waardoor het oliekartel OPEC effectief wordt ontmanteld – heeft nu al een dempend effect op concurrerende landen; voor bijna $400 mrd aan investeringen in fossiele brandstoffen is uitgesteld.
Veel regeringen hebben zich genoodzaakt gezien handelend op te treden. Rusland heeft een korting van 10% op de overheidsuitgaven aangekondigd, nu de olieprijzen dit jaar zijn blijven dalen. En Indonesië moet bijna $14 mrd besparen door de subsidies op benzine en diesel af te schaffen of te beperken.
Aan de andere kant van het spectrum zijn de olie-importerende ontwikkelde landen zeer waarschijnlijk al efficiënte afnemers van fossiele brandstoffen geworden. Hun economieën, die hebben bewezen een olieprijs van $100 per vat of méér aan te kunnen, hebben duidelijk geen infuus van goedkope energie nodig om te kunnen blijven functioneren. Het is daarom een goede tijd om een belasting op fossiele brandstoffen in te voeren, zodat het mazzeltje met de olieprijzen niet eenvoudigweg verdwijnt aan de benzinepomp. Deze landen moeten al hun hersenschimmen over het vinden van "zwart goud" uit hun hoofd zetten, genieten van de kortetermijnvoordelen van goedkope olie en actie ondernemen om investeringen in de infrastructuur op één lijn te brengen met de veranderende technologie.
Intussen moeten de olieproducerende ontwikkelde landen hun resterende inkomsten aanwenden om ervoor te zorgen dat er ook een leven is ná de olie. Dat is wat Noorwegen de afgelopen vijfentwintig heeft gedaan, met aanzienlijk nationaal profijt.
Tenslotte zijn er de regeringen van de olie-importerende ontwikkelingslanden, die waarschijnlijk de meest urgente behoefte aan energie hebben – en ook het breedste scala aan mogelijkheden om aan die behoefte te voldoen. Ze zullen naar de wereldgemeenschap kijken voor steun en zullen goed moeten onderzoeken of de energie-oplossingen die zich aandienen modern of duurzaam zijn. De bewijslast moet liggen bij op fossiele brandstoffen gebaseerde oplossingen – met name steenkool –, die hun concurrentiekracht zullen moeten aantonen, nadat rekening is gehouden met alle ecologische, medische en sociale kosten van de winning ervan.
Het kan soms lijken dat er nooit een goede tijd is voor klimaatactie. Als de groei krachtig is, dringen mensen er bij regeringen op aan die trein niet te laten ontsporen, ook al is er weinig bewijsmateriaal dat een goed begeleide, progressieve implementatie van een belasting op fossiele brandstoffen zwaar op de groei zal drukken. Als de groei zwak is, vragen mensen zich vol ongeloof af hoe de pleitbezorgers van een klimaatbeleid überhaupt op het idee kunnen komen de zaken nóg erger te maken.
Er zal waarschijnlijk nooit een perfect moment zijn voor de introductie van een nieuw klimaatbeleid. Langetermijn-problemen vergen beleid dat zorgt voor langetermijnsignalen. En dat beleid kan niet voortdurend worden afgestemd op de volatiliteit van het moment. Als je probeert dat te doen, leidt dat alleen maar tot nog méér volatiliteit (die de groei werkelijk schaadt). Nu is het net zo'n goede tijd om iets te ondernemen als op ieder ander moment.
En we mogen daarbij niet de illusie hebben dat de transformatieve uitkomst die nodig zal zijn een soepel verlopend proces zal opleveren. Technologische veranderingen zorgen voor golven van creatieve vernietiging. Maar er zullen ook winnaars zijn, omdat nieuwe technologieën nieuwe mogelijkheden creëren voor het bedrijfsleven. Regeringen die proberen de status quo te verdedigen zullen niet alleen falen op het gebied van de klimaatverandering; zij zullen uiteindelijk hogere sociale kosten veroorzaken, omdat zij er niet in zullen slagen munt te slaan uit de economische kansen die door hervormingen worden geschapen.
Het klimaatveranderingsbeleid moet stabiel en consistent zijn. Acties op dit gebied moeten verandering stimuleren, in plaats van die herhaaldelijk te laten stranden. Als beleggers eenmaal inzien dat het spel met fossiele brandstoffen voorbij is, moeten overheden de gevolgen van de daaruit voortvloeiende reallocatie van kapitaal zich laten voltrekken. Die overgang zal schoksgewijs gaan, maar er is geen andere keus. Proberen een economisch en technisch aanpassingsbeleid te finetunen zou net zo futiel zijn als proberen de prijs van ruwe olie te controleren.
Vertaling: Menno Grootveld