Der richtige Zeitpunkt für Klimaschutzmaßnahmen
PARIS – In den rund drei Jahrzehnten, seit der Klimawandel zu einem globalen Thema wurde, gingen die Regierungen die meiste Zeit optimistisch davon aus, dass sich ein grüner Übergang im Laufe der Zeit von ganz allein einstellen wird, wenn steigende Preise für fossile Brennstoffe die Verbraucher in Richtung kohlenstoffarmer Alternativen drängen. Das Hindernis, so glaubte man, läge auf der Produktionsseite, da sprudelnde Renditen aus Investitionen in Ölfelder zu immer ehrgeizigeren Explorationsvorhaben führen würden.
Heute hat sich das Blatt gewendet. Angesichts eines bei rund 40 US-Dollar pro Fass stagnierenden Ölpreises brauchen die Unternehmen im Bereich fossiler Brennstoffe keine Regierungen, die ihnen einen Investitionsstopp nahelegen. Die Herausforderung liegt mittlerweile auf der Verbraucherseite der Gleichung. Angesichts derartig niedriger Treibstoffpreise, stellt sich die Frage, was zu tun ist, um Verbrauchsmuster zu verändern.
Natürlich gibt es einige Anzeichen dafür, dass billigere Energie für ausreichend Wachstum sorgen könnte, um die Ölpreise wieder nach oben zu treiben. Doch niemand prognostiziert, dass der Wiederanstieg hoch genug ausfallen wird, um jene radikale Transformation in Gang zu bringen, derer es bedarf, damit die Länder ihre Ziele zur Reduktion der Emissionen erreichen. 
Ein OECD-Bericht aus dem Jahr 2015 zeigt, wie weit die Länder im Hinblick auf deren Emissionsziele zurückliegen – von ihrem Bekenntnis zur Begrenzung des weltweiten Temperaturanstiegs auf deutlich unter 2 Grad ganz schweigen. Unterdessen geht es den Ölkonzernen darum, uns zu erinnern, dass wir im Laufe der schrittweisen Entwicklung in Richtung einer neuen Energiewirtschaft noch viele weitere Jahre fossile Brennstoffe verbrennen werden müssen.
Was sollen die Regierungen nun also tun? Es besteht nahezu universelle Einigkeit darüber, dass von einem sich in gefährlicher Weise erwärmenden Planeten niemand profitiert.  Doch die verschiedenen Länder verfolgen unterschiedliche Interessen – je nachdem, ob es sich um Ölexporteure oder Ölimporteure handelt und wie weit entwickelt deren Volkswirtschaften sind.
Ölproduzierende Entwicklungsländer sollten erwägen, ob ihre Ressourcen angesichts sinkender Emissionsgrenzen über eine wirtschaftliche Zukunft verfügen. Länder wie Saudi Arabien, Irak und Iran – wo Öl im Überfluss vorhanden und billig zu fördern ist – werden wohl noch für einige Zeit im Geschäft bleiben. Selbst wenn es zu einer rapiden Dekarbonisierung kommt, wird der Ölverbrauch hoch genug bleiben, um eine Förderung ihrer Ressourcen weiterhin lukrativ zu gestalten.
Subscribe to PS Digital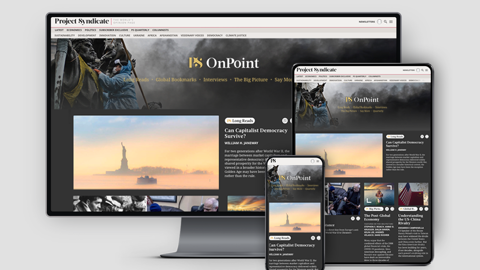 Subscribe to PS Digital
Access every new PS commentary, our entire On Point suite of subscriber-exclusive content – including Longer Reads, Insider Interviews, Big Picture/Big Question, and Say More – and the full PS archive.
Länder mit weniger gut ausgestatteten Ölvorkommen allerdings müssen Wirtschaftsreformen umsetzen und Subventionen streichen. Saudi Arabien hat deutlich gemacht, dass man nicht länger bereit ist, Marktanteile zu opfern, um kostenintensivere Produzenten zu stützen.  Die Entscheidung des Landes, die Förderleistung auf derzeitigem Niveau zu halten – und damit praktisch das OPEC-Kartell zu neutralisieren – zeigt bereits dämpfende Wirkung auf die Konkurrenz. Investitionen in fossile Brennstoffe im Ausmaß von beinahe 400 Milliarden Dollar wurden bereits zurückgestellt.
Viele Regierungen sind gezwungen, Maßnahmen zu ergreifen. Da die Talfahrt des Ölpreises auch im heurigen Jahr anhält, kündigte Russland Kürzungen der öffentlichen Ausgaben um 10 Prozent an. Und in Indonesien sollte es gelingen, durch die Abschaffung der Subventionen für Benzin und eine Deckelung der Unterstützung für Diesel-Treibstoff beinahe 14 Milliarden Dollar einzusparen.  
Auf der anderen Seite des Spektrums sind die ölimportierenden Industrieländer zu finden, die wohl schon jetzt bereits als effiziente Verbraucher fossiler Brennstoffe gelten. Ihre Ökonomien haben bereits bewiesen, einen Ölpreis von 100 Dollar pro Fass verkraften zu können, weswegen sie bestimmt keine billige Energie brauchen, um zu florieren. Deshalb ist momentan ein günstiger Zeitpunkt für die Einführung von CO2-Steuern, so dass der Geldsegen aufgrund des niedrigen Ölpreises nicht einfach wieder an der Tankstelle zerrinnt. Diese Länder sollten sich von allen Vorstellungen, "schwarzes Gold" zu finden verabschieden, die kurzfristigen Vorteile billigen Öls genießen und Maßnahmen ergreifen, um Infrastruktur-Investitionen mit den sich verändernden Technologien in Einklang zu bringen. 
Unterdessen sollten ölproduzierende Industrieländer die verbleibenden Erträge anlegen, um Kapitalsubstitution zu ermöglichen und ein Leben nach dem Öl sicherzustellen. Das hat Norwegen in den letzten 25 Jahren zum beträchtlichen Vorteil des Landes auch getan.
Den dringendsten Energiebedarf  - sowie auch die meisten Möglichkeiten ihn zu decken - haben schließlich wohl die Regierungen der ölimportierenden Entwicklungsländer. Sie werden sich an die internationale Gemeinschaft um Unterstützung wenden und müssen die verfügbaren Energielösungen einer sorgfältigen Prüfung unterziehen, ob diese zeitgemäß und nachhaltig sind. Dies gilt vor allem für Lösungen auf Grundlage fossiler Brennstoffe – insbesondere Kohle –  um deren Wettbewerbsfähigkeit nach Einbeziehung aller Umwelt-, Gesundheits-, und Sozialkosten zu ermitteln. 
Manchmal hat es den Anschein, als ob es keinen richtigen Zeitpunkt für Klimaschutzmaßnahmen gibt. Bei starkem Wachstum drängen die Menschen die Regierungen, die gute Entwicklung nicht zu gefährden. (Obwohl wenig dafür spricht, dass eine wohlvorbereitete, schrittweise Einführung einer Kohlenstoffsteuer das Wachstum belasten würde.) Bei schwachem Wachstum fragen die Menschen skeptisch, wie die Befürworter des Klimaschutzes eine Verschlechterung der Situation in Betracht ziehen können.
Den perfekten Zeitpunkt für die Einführung neuer Klimaschutzmaßnahmen gibt es wohl nicht. Langfristige Probleme erfordern politische Maßnahmen mit langfristiger Signalwirkung. Und diese Maßnahmen können nicht ständig auf die Unbeständigkeit des Augenblicks abgestimmt werden. Derartiges zu versuchen, führt nur zu noch größerer Unbeständigkeit (und schwächt das Wachstum wirklich). Gerade jetzt ist immer die beste Zeit, um aktiv zu werden.
Und wir sollten das tun, ohne uns der Illusion hinzugeben, dass das Ergebnis des Übergangs, den wir benötigen, ein sanfter, stufenweiser Prozess sein wird. Technologische Veränderungen fachen Stürme schöpferischer Zerstörungen an. Es wird – und muss – viele Verlierer geben. Aber wir werden auch Sieger sehen, da neue Technologien neue Geschäftschancen eröffnen. Regierungen, die versuchen den Status quo aufrecht zu erhalten, werden nicht nur im Bereich des Klimawandels scheitern, sondern ihren Bürgern letztlich auch höhere soziale Kosten auferlegen, weil es ihnen nicht gelingt, Kapital aus den durch die Reformen geschaffenen wirtschaftlichen Chancen zu schlagen.
Klimaschutzpolitik hat beständig und einheitlich zu sein. Die Maßnahmen müssen den Wandel unterstützen und ihn nicht wiederholt zum Stillstand bringen. Wenn die Investoren einst erkennen, dass fossile Brennstoffe ausgedient haben, werden die Regierungen die Auswirkungen der daraus resultierenden Reallokation des Kapitals zulassen müssen. Es wird ein steiniger Weg. Aber es besteht keine andere Wahl. Der Versuch einer Feinabstimmung des wirtschaftlichen und technischen Anpassungsprozesses wäre ebenso sinnlos wie der Versuch, den Rohölpreis zu kontrollieren. 
Aus dem Englischen von Helga Klinger-Groier