War der Abgesang auf die Kernenergie verfrüht?
LONDON – Seit der Nuklearkatastrophe von Fukushima in Japan vor mehr als zehn Jahren befindet sich die Kernenergie im Niedergang, doch nun steht möglicherweise ihr Comeback bevor. Der Einmarsch Russlands in die Ukraine und die steigenden Erdgaspreise haben dazu geführt, dass Kernenergie als Beitrag zur Lösung der doppelten Herausforderung von Energiesicherheit und Klimawandel diskutiert wird. Wird Atomenergie wieder als Zukunftstechnik gelten oder wird sie sich erneut als trügerische Hoffnung entpuppen?
Bis vor kurzem sahen die Aussichten für Kernkraft schlecht aus. Die in den 1970er und 1980er Jahren gebauten Kraftwerke nähern sich dem Ende ihrer Lebensdauer, während Deutschland und Japan beschlossen haben, ihre Anlagen aus politischen Gründen abzuschalten. Von den relativ wenigen neuen Atomkraftwerken, die derzeit gebaut werden, sind viele von Managementfehlern und technischen Mängeln betroffen. Die Druckwasserreaktoren der neuen Generation (European Pressurized Reactor, EPR)
in Flamanville in Nordfrankreich und Olkiluoto in Finnland sind 13 beziehungsweise zwölf Jahre hinter dem Zeitplan zurück. Hinkley Point im Südwesten Englands, das im Jahr 2023 den Strom für die Zubereitung der britischen Weihnachtstruthähne hätte liefern sollen, könnte nun 2027 in Betrieb gehen. Die Kostenplanung für alle diese Projekte wird unweigerlich massiv überschritten.
In den Vereinigten Staaten wurde seit 1996 kein neues kommerzielles Kernkraftwerk mehr in Betrieb genommen. Die Kombination aus billigem heimischen Schiefergas und Subventionen für Windenergie hat die Wirtschaftlichkeit bestehender Anlagen geschwächt und Investitionen in neue Projekte gehemmt. Angesichts sinkender Kosten für alternative Energiequellen schien Atomkraft übermäßig kostspielig und riskant. In vielen Ländern sind Beschäftigte mit Kenntnissen im Bereich der Kerntechnik eher älter, und in den vergangenen zehn Jahren wurden nur wenige neue Mitarbeiter eingestellt.
Die Auffassung der Nuklearindustrie, dass Atomkraft als Segen für den Übergang zu sauberer Energie betrachtet werden sollte, hat den Niedergang nicht aufgehalten. Doch im vergangenen Jahr haben steigende Energiepreise und die durch den Einmarsch Russlands in die Ukraine ausgelöste Unsicherheit über die Energieversorgung Regierungen und Verbrauchern vor Augen geführt, dass die Abhängigkeit von Importen wichtiger strategischer Ressourcen riskant ist. Die Maximierung der im Inland produzierten Elektrizitätsmenge sollte der Ausgangspunkt für jede Strategie zur Sicherung der Energieversorgung sein. Gleichzeitig haben die in den vergangenen zwölf Monaten stark gestiegenen Erdgaspreise dazu geführt, dass neue Atomkraftwerke deutlich wettbewerbsfähiger geworden sind.
Die Folge ist eine Vielzahl neuer Projekte und Pläne. Der britische Premierminister Boris Johnson will den Beitrag von Atomkraftwerken zur Stromversorgung bis 2050 auf 25 Prozent erhöhen. Im April genehmigte China den Bau von sechs neuen Reaktoren, die zu den 54 bereits in Betrieb befindlichen und 19 im Bau befindlichen hinzukommen. Berichten zufolge verhandeln chinesische Unternehmen über die Entwicklung von 40 neuen Reaktoren in der ganzen Welt. Ein in China gebauter Reaktor in Karatschi, Pakistan, wurde am 31. März in Betrieb genommen, und China unterzeichnete Anfang des Jahres einen Vertrag über den Bau eines weiteren neuen Kernkraftwerks in Argentinien.
WINTER SALE: Save 25% on a new PS subscription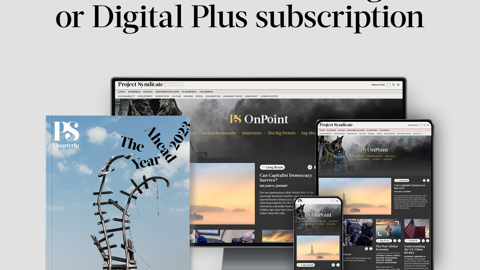 WINTER SALE: Save 25% on a new PS subscription
For a limited time, you can gain greater access to Project Syndicate – including every commentary and our entire On Point suite of subscriber-exclusive content – starting at less than $6 per month.
Deutschland hat zwar 2011 mit der Abschaltung seiner Kernkraftkapazitäten begonnen und wird seine drei verbleibenden Kernkraftwerke bis Ende dieses Jahres stilllegen. Andernorts in der Europäischen Union besteht jedoch großes Interesse am Potenzial der Kernenergie, die russischen Erdgaslieferungen zu ersetzen, von denen die EU in den letzten 40 Jahren abhängig gewesen ist. Der französische Präsident Emmanuel Macron kündigte vor den kürzlich erfolgten Präsidentschaftswahlen an, dass Frankreich ab 2028 bis zu 14 neue Atomkraftwerke bauen werde. Und Polen legte im März Pläne für den Bau von sechs neuen Reaktoren vor.
Um diesen Trend zu fördern, entwickeln Unternehmen wie Rolls-Royce im Vereinigten Königreich und NuScale in den USA eine neue Generation von Mini-Atomreaktoren (Small Modular Reactors, SMR), die in weniger als zehn Jahren gebaut und in Betrieb genommen werden können. SMR können in Serie gebaut werden und dürften private Investoren anlocken, die von langen Vorlaufzeiten, ausufernden Baukosten und den mit komplexen Großanlagen wie Flamanville verbundenen Risiken abgeschreckt werden.
Doch eine Renaissance der Kernenergie ist keineswegs sicher. Heute sind mehr Reaktoren von Schließung und Stilllegung bedroht als gebaut werden. Obwohl sich die öffentliche Meinung über Kernenergie in den meisten Ländern verbessert hat, verhindert der fest verwurzelte Widerstand, der durch Umwelt- und Sicherheitsbedenken untermauert wird, weiterhin eine Renaissance. Die lokalen Planungsprozesse sind langwierig und erbittert. Der Bau dauert lange, nicht zuletzt wegen der erforderlichen umfangreichen Sicherheitsüberprüfungen, und Zeit kostet Geld. Daher werden Projekte nur dann in Angriff genommen, wenn es glaubwürdige Garantien für die künftige Preisgestaltung und Stromabnahme gibt. Die Zukunft der Kernenergie ist untrennbar mit der öffentlichen Politik verbunden, die wie immer ungewiss ist und somit ein weiteres Risiko darstellt.
Außerdem gibt es keine Garantie dafür, dass die Erdgaspreise hoch bleiben, wenn neue Felder in Regionen wie Nordafrika oder Zentralasien in Betrieb genommen werden, oder dass die EU ihre Zusage einhält, ihre Gasimporte aus Russland bis Ende dieses Jahres um zwei Drittel zu reduzieren. Und auch das Problem der Atommülllagerung wird von der Atomindustrie immer noch nicht wirksam angegangen. Bei Kraftwerken wie Sizewell in Ostengland kommt noch die Herausforderung hinzu, eine ausreichende Wasserversorgung für den Betrieb der Reaktoren sicherzustellen.
Angesichts der Aussicht auf einen langen Konflikt in der Ukraine, der den Handel mit Russland einschränkt, und angesichts der Tatsache, dass die Elektrifizierung auf dem Weg zu einer kohlenstoffarmen Welt immer wichtiger werden dürfte, birgt Atomenergie ein enormes Potenzial. Aufgrund der damit verbundenen Vorlaufzeiten kann Atomenergie keine sofortige Lösung für die heutigen Herausforderungen bieten. Innerhalb eines Jahrzehnts könnte die Kernenergie jedoch zusammen mit Wind- und Sonnenenergie den globalen Gasmarkt untergraben. Die Frage ist, ob die zivile Kernenergie nun endlich einlösen kann, was sie seit ihrer Entwicklung in den 1950er Jahren versprochen hat.
Aus dem Englischen von Sandra Pontow.