Poderá a energia nuclear ressuscitar?
LONDRES – A energia nuclear tem estado em declínio desde o desastre de Fukushima no Japão, há mais de uma década, mas poderá estar a preparar um retorno. A invasão da Ucrânia pela Rússia e a subida intensa dos preços do gás natural levaram algumas pessoas a afirmar que a energia nuclear pode ajudar a resolver os desafios duplos da segurança energética e das alterações climáticas. Terá a indústria retomado a sua actividade, ou será esta apenas mais uma falsa promessa?
Até há pouco tempo, as perspectivas da energia nuclear não pareciam famosas. As centrais construídas nas décadas de 1970 e 1980 estão a aproximar-se do fim das suas vidas úteis e a Alemanha e o Japão decidiram desactivar as suas centrais por motivos políticos. Das relativamente poucas novas centrais nucleares que se encontram em construção, muitas foram assoladas por falhas na gestão e por problemas técnicos. Os emblemáticos reactores EPR com água pressurizada em Flamanville, no norte de França, e em Olkiluoto, na Finlândia, estão respectivamente 13 e 12 anos atrasados. Hinkley Point, no sudoeste da Inglaterra, que supostamente forneceria a energia para cozinhar os perus de Natal da Grã-Bretanha em 2023, poderá agora estar operacional em 2027. Inevitavelmente, todos estes projectos apresentam enormes desvios orçamentais.
Nos Estados Unidos, desde 1996 que não se inauguram novas instalações nucleares com fins comerciais. A combinação do gás de xisto nacional e barato e dos subsídios para a energia eólica abalou os princípios económicos das fábricas existentes e desencorajou o investimento em novos projectos. Com o custo das alternativas energéticas a descer, o nuclear começou a parecer excessivamente dispendioso e arriscado. Em muitos países, os recursos humanos com competências em engenharia nuclear estão a envelhecer, e o recrutamento tem sido mínimo durante a década passada.
O argumento do sector, de que o nuclear deveria ser considerado uma bênção para a transição para energias limpas, não impediu o declínio. Mas, durante o ano passado, a subida dos preços da energia e a insegurança energética desencadeada pela invasão russa da Ucrânia recordaram aos governos e aos consumidores o risco de depender de importações de recursos estratégicos essenciais. A maximização dos fornecimentos nacionais de energia deveria ser o ponto de partida para qualquer estratégia de segurança energética. Ao mesmo tempo, os acentuados aumentos dos preços do gás natural verificados nos últimos 12 meses fizeram com que as novas instalações nucleares parecessem muito mais competitivas.
O resultado é uma vaga de projectos e de planos novos. O primeiro-ministro do Reino Unido, Boris Johnson, quer que a energia nuclear forneça 25% da electricidade do país até 2050. Em Abril, a China aprovou a construção de seis novos reactores, que se juntam aos 54 já em exploração e aos 19 em construção. Empresas chinesas estarão alegadamente em negociações para desenvolver 40 novos reactores por todo o mundo. A 31 de Março, foi encomendado um reactor de construção chinesa para Karachi, no Paquistão, e a China celebrou este ano um acordo para construir mais uma nova central nuclear na Argentina.
É verdade que a Alemanha começou a desactivar a sua capacidade nuclear em 2011, e que deverá encerrar as suas três centrais remanescentes até ao fim deste ano. No resto da União Europeia, porém, existe um interesse significativo no potencial da energia nuclear para substituir os fornecimentos de gás natural russo dos quais a UE tem dependido nos últimos 40 anos. O presidente francês Emmanuel Macron anunciou antes das eleições presidenciais que a França construiria até 14 novos reactores nucleares, a começar em 2028. E a Polónia apresentou em Março planos para a construção de seis novos reactores
WINTER SALE: Save 25% on a new PS subscription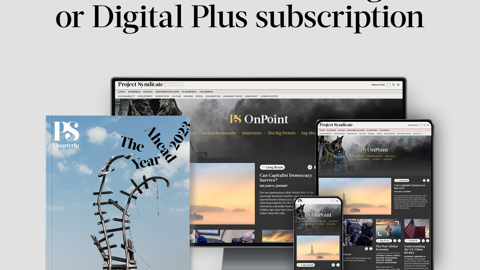 WINTER SALE: Save 25% on a new PS subscription
For a limited time, you can gain greater access to Project Syndicate – including every commentary and our entire On Point suite of subscriber-exclusive content – starting at less than $6 per month.
Confirmando esta tendência, empresas como a Rolls-Royce no Reino Unido e a NuScale nos EUA estão a desenvolver uma nova geração de pequenos reactores modulares (PRM) que podem ser construídos e instalados em menos de dez anos. Os PRM podem ser construídos em série e deverão atrair os investidores privados desencorajados pelos longos tempos de espera, pelos custos de construção crescentes e pelos riscos associados a centrais complexas e de grandes dimensões como a de Flamanville.
Mas o renascimento nuclear está longe de garantido. Hoje, estão mais reactores em risco de encerramento e de desactivação do que em construção. Apesar de o sentimento do público se ter tornado mais favorável ao nuclear em muitos países, a resistência consolidada, fundamentada em preocupações ambientais e de segurança, continua a impedir o renascimento. Os processos locais de planeamento são prolongados e inclementes. A construção demora tempo, muito devido às extensas avaliações de segurança exigidas, e tempo é dinheiro. Consequentemente, os projectos só avançarão quando existirem garantias credíveis sobre preços e compras futuras de energia. O futuro da energia nuclear é indissociável do da política pública que, como sempre, é incerto e constitui uma fonte de risco adicional.
Além disso, nada garante que os preços do gás natural permaneçam elevados depois da entrada em exploração de novas jazidas em regiões como o Norte de África e a Ásia Central, ou que a UE cumpra a sua promessa de reduzir as suas importações de gás da Rússia em dois terços até ao fim deste ano. Da mesma forma, a indústria nuclear ainda não consegue lidar eficazmente com o problema da eliminação dos resíduos. Em centrais como a de Sizewell, no leste da Inglaterra, existe o desafio adicional de assegurar água suficiente para o funcionamento dos reactores.
Dadas as perspectivas de um conflito longo na Ucrânia que limite o comércio com a Rússia, e com a probabilidade de a electrificação se tornar ainda mais importante à medida que avançamos para um mundo de baixo teor carbónico, o potencial para a energia nuclear é enorme. Pelos tempos de espera envolvidos, a energia nuclear não consegue proporcionar uma solução instantânea para os desafios actuais. Dentro de uma década, porém, a energia nuclear, ao lado da eólica e da solar, poderá abalar o mercado global do gás. A questão reside em saber se a energia nuclear civil poderá finalmente cumprir a promessa revelada quando foi pela primeira vez desenvolvida, na década de 1950.